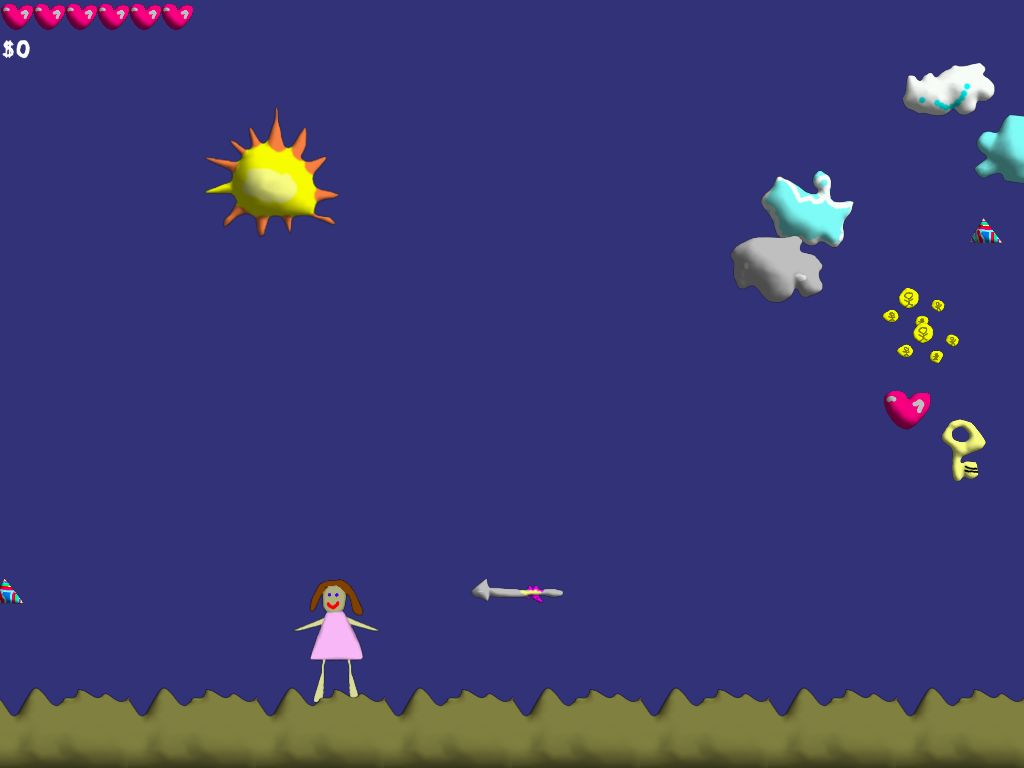 Helen's Game
In the summer of 2007, my daughter Helen (who was 5 at the time) and I (Erik Erikson) worked on a computer game project. She did a majority of the game design, most of the art and most of the sound effects. I did the programming.
The game is a simple game of collecting treasure. Collect falling coins to increase your score. Collect falling keys to open treasure chests. Avoid getting hit by falling rocks (rainbow colored shapes) and flying arrows. If you get hit, you will lose a heart. Catch a falling heart to recover.
The interface is very simple. Use your left mouse button to jump, and your right mouse button to duck (do the splits). You'll need to do both to avoid the arrows and rocks.
The game gets progressively faster. See what you can get for a high score.
We hope you enjoy the project.
-Helen and Erik
Windows 98 or higher / Latest DirectX 9.0c or higher
---
F.A.Q.
Is Helen's Game free?
Helen's Game is free! Donations are accepted and will be transferred (minus transaction fees and taxes) by Bog Turtle Games LLC into Helen's personal savings account. To specify a donation amount, simply edit the price in your cart.
Is there a suggested donation price?
Payment service providers (i.e., PayPal) have base transaction fees that make micro-donations (i.e., donations less than approximately 50 cents) ineffective. For example, if you donate 25 cents via PayPal, PayPal will charge 25 cents for the transaction. Our suggested donation price is $1.00 USD, and about a third of that donation will cover the transaction fees.
Why does Windows Vista User Account Control (UAC) appear with the message, "An unidentified program wants to access your computer", when I try to run Helen's Game or its installer?
For ease of porting, we decided to make Helen's Game run with administrator rights on Windows Vista. The User Account Control will ask for permission everytime Helen's Game attempts to run as administrator. Helen's Game needs this permission in order to write player data into the Program Files folder. If Helen's Game is not run with administrator rights, you won't be able to save your player's progress. In the future, we will try to make our products work seamlessly with Windows Vista.
Why do I get the error "d3dx9_36.dll not found" when I try to run Helen's Game?
You will need to update your DirectX installation to the latest version in order to play Helen's Game. You can update your DirectX here.